And by everything, I mean I've going to ride every ride here at Walt Disney World. As I mentioned before, I've only been to WDW twice before, and while both trips were lengthy and packed full of rides and fun, I still haven't done everything at the parks. So I've decided to make that my goal for my time here during the Disney College Program, and to document my progress while I do it!
Well, I'm at least going to have fun, hopefully you like hearing about it. And if not, well then my name is Clayton and this has been Tarzan's Treehouse.
So, details. I'm posting this right now because if all goes well I should be going into the parks for the first time tomorrow night after Traditions. I'm going to take pictures and/or videos of my adventures, and probably post there up here one at a time, so not exactly at the same time I necessarily do them. Rather, I expect I'll do several rides on a day off and then spend the next week or so posting about it, but we'll see how it actually goes.
I got the inspiration for this from the two guys who run Parkeology.com. They did a challenge back in 2014 called the WDW46 challenge. That was an attempt to ride every ride in WDW in one day, using only perks available to all guests, so pretty much just intense planning, Fastpass+, and Extra Magic Hours. I'm not crazy enough to try and do this all in one day, so I'm just kind of using their ideas about what counts as a ride to give myself a starting point. I've posted directly from their website below the exact list of what they completed for the challenge.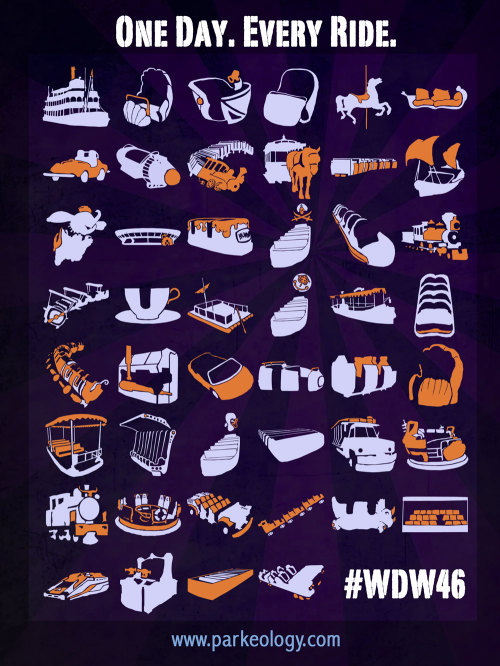 From
http://www.parkeology.com/wdw46-official-record
:
"The list of 46 rides comes from Disney's official attractions list. We count only rides, not shows or exhibits. The attraction must have a vehicle. The current list of 46 rides is as follows:
MAGIC KINGDOM
Main Street Vehicles
Walt Disney World Railroad
Jungle Cruise
Pirates of the Caribbean
Magic Carpets of Aladdin
Splash Mountain
Big Thunder Mountain
Rafts to Tom Sawyer Island
Liberty Belle Riverboat
Haunted Mansion
It's a Small World
Peter Pan's Flight
Prince Charming Regal Carousel
Many Adventures of Winnie the Pooh
Under the Sea — Journey of the Little Mermaid
Seven Dwarfs Mine Train
Mad Tea Party
Dumbo the Flying Elephant
Barnstormer
Tomorrowland Speedway
Tomorrowland Transit Authority PeopleMover
Space Mountain
Buzz Lightyear Space Ranger Spin
AstroOrbiter
Carousel of Progress
EPCOT
Spaceship Earth
Ellen's Energy Adventure
Mission: SPACE
Test Track
Gran Fiesta Tour
Journey Into Imagination
Soarin'
Living with the Land
The Seas with Nemo and Friends
DISNEY'S HOLLYWOOD STUDIOS
Great Movie Ride
Toy Story Midway Mania
Star Tours
Rock 'n' Roller Coaster
Twilight Zone Tower of Terror
DISNEY'S ANIMAL KINGDOM
Kilimanjaro Safari
Wildlife Express
Kali River Rapids
Expedition Everest
Dinosaur
Primeval Whirl
TriceraTop Spin"
You may notice I crossed Soarin' off that list. That particular ride has closed while a third theater is constructed and programming takes place in preparation to switch the film over to one showing scenes from all over the world instead of limited to only California. This will continue until the new film premieres in summer, long after I am gone in April. So already I'm down to 45 rides. As well. I am going to include shows as part of what I experience and document during my time here. Since no one likes failure, I'm not requiring all of these for myself, but they will definitely be included as a bonus of sorts.
A record of the successful WDW46 run from Parkeology is captured
here
, and while it is rather lengthy, it's still quite an interesting read.
Hopefully I'll see you back here as I start to record my progress. TTFN!